Flowers Create Memories that Last Forever
Flowers create intimate connections and immediately impact our happiness. Attitudes, values and emotions are unique to each of us, using the right flowers provides a unique way of connecting people on an emotional level. Flowers create memories that last forever.
---
International Floral Distributors, Inc. (IFD) is a marketing company owned by 14 like-minded floral wholesale distributors with 51 locations focused on gaining business advantages for each member. IFD is a member directed, member driven organization. IFD originated as an informal group working together to import cut flowers. The group was expanded and hired an Executive Director in 1997. In 1998 IFD hosted its first perishable trade fair. In 1999 IFD published its first annual hardgoods catalog. The company was incorporated in 2000 and continues to grow in its scope of marketing and networking activities.  The IFD staff is a mix of marketing, technology, and flower industry experts.  
As an owner/member of IFD, members take advantage of the pooled resources of all the IFD member firms to build marketing and operating advantages for their own business.
IFD members Learn, Share, and Innovate!!.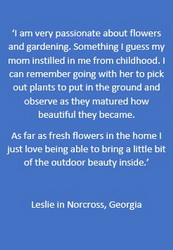 By Adam Havrilla AIFD, PFCI, ICPF & Corey Harbour AIFD, PFCI, NAFD
As 2020 progresses, the need to find sanctuary and well-being in our everyday activities is paramount and flowers fill the need! Circumstances have changed the way we live, communicate, work and celebrate. It has also changed simply being with those we love. The one constant since the start of the pandemic is the power of floral. Floral and foliage have played a huge role in our lives and it is never so important as it is today.
Home and family have become our everything. The time spent in our homes has increased since the start of the pandemic and people have increased giving themselves the gift of floral this year. Floral can change the darkest of times to bright and hopeful thoughts of the future. We can watch the flowers bloom in the design and stop to take in the scents of hope for the future. Nothing can beat glancing into a room and seeing a beautiful floral arrangement blooming.